We have 6 Group work rooms at your disposal so you can have work spaces suitable for your study needs.
The rooms are bookable and equipped with a table, chairs and blackboard, as well as a 37 "TV screen so you can connect your computer.
Terms of service in the EPSEVG Library
The operation of the rooms is governed by the Conditions of use of the group work rooms.
In addition, in the EPSEVG Library:
The maximum number of hours you can book in a day: 3 hores
The maximum number of hours you can book during one week: 15 hores
The maximum number of current reservations you can have: 5 reservations
The maximum number of people per room is 4, 6 o 10 (depending on the space of the room) in order to be able to maintain the current COVID-19 security measures.
Authorized occupations by room:
Rooms 1-4: maximum occupancy of 4 people and minimum of 2

Room 5: maximum occupancy of 6 people and minimum of 3

Room 6: maximum occupancy of 10 people and minimum of 5
The CreaLab is one meeting space that offers the opportunity to use creative tools and resources to develop ideas, projects, prototypes and products.
Our goal is to help the community UPC of innovative dreamers, designers and makers to have a safe, fun and rewarding experience, providing knowledge, a creative space and access to maker tools.
You will find 2 different spaces:
- The area of ​​"creative gym" where you will have at your disposal games and creative materials that will help you establish new relationships between the things you know, and thus find new ways of looking at them and working with them.
- The area "maker", with cutting tables, work bench, light box to take pictures of your prototypes...
If you need tools, come to the loan desk and request the toolkit and everything you need to use in this space:
seven limes
Screwdrivers
sergeant pincers
Gloves and protective glasses
greenhouses
Light table for tracing (size A3)
And many more functions
[Temporarily used as a group workroom]
It is an open-air classroom dedicated to carrying out collaborative activities and can be booked if you have a proposal of activity of interest to the university community.
Facilities available in the room:
10 folding mobile tables
1 projector cannon + screen projection
2 slates
Activities you can carry out:
Training sessions and practical workshops
Conferències
Group meetings (activity subject to current COVID-19 security measures)
Exam preparation classes
Group study (activity subject to current COVID-19 security measures)
Presentation of projects
Meditation sessions
... and everything that you can do to promote university life in the Campus of Vilanova!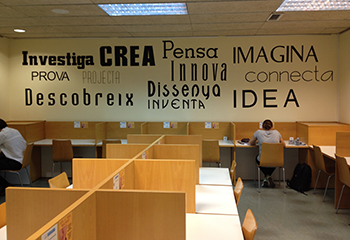 To encourage concentration, we have a differentiated area from the rest of the general room where you will find 48 individual ships with electrical connection.
If, despite being in this area, you need to evade yourself, even more, of the surroundings that surround you, we have ear plugs for you. Ask them at the lending desk!
We have a relaxing area where you can escape for a while.
Equipment you'll find:
Poufs and footrests
Sofas
Fitballs that you can use anywhere in the Library
In the main space of the room, the shelves are mixed, where you will find the collections in physical format, with 91 study points distributed in tables of different sizes.
You can study alone or accompanied, by helping with the mobile slate You can move to any point.
Cultural showcases are specific samples that we display at the entrance to the Library in order to promote cycles of activities that we carry out or draw attention to a specific topic.
To stay up-to-date, next to the loan desk, we announce all the activities that promote the university life we ​​carry out from the Library.
In addition, we also present a collection of activities promoted by the different cultural associations in the Garraf area.
In this space you can also work from the bar and stools that we have enabled
Next to the 1 Work Room, you have the kitchen, open to use it whenever you need it.
Facilities available in the kitchen:
1 microwave
1 refrigerator
Table + chairs
1 water heater (to prepare infusions)
1 Nespresso capsule coffeemaker
1 slate (where you can leave messages or recommend recipes)
4 Differentiated bins to facilitate waste recycling
For the proper functioning of the kitchen, we only ask that, among all, we keep the space clean and tidy, we empty the refrigerator every week and selectively separate the waste.
Area available for the realization of exhibitions and cultural samples of any type.
Space reserved for individual use where you can make your video calls without distractions.
If you need to access it, ask for the key at the loan desk, where we can also provide you with material to improve the experience of your video conferencing (light ring, mobile tripod, etc.).